Using Coconut Oil for Constipation- Does it Work?
Troubled by constipation? Tried literally every home remedy but it just doesn't seem to work for you? Get ready because things are about to change, and coconut oil is all you need to do that. Here's how to use coconut oil for constipation and other digestive system complaints, and yes, it actually works! Read on…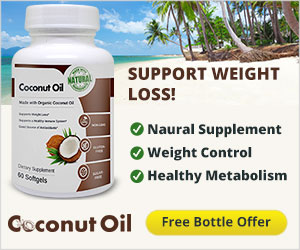 How Does it Work?
Coconut oil can turn out to be one of the best powerful and natural laxatives to be used. The oil, when extracted from coconut, tends to be fibrous in nature, and help speed up metabolism and add bulk to the stools. In addition, coconut oil is also built up of medium chain fatty acids, which helps soften the stools naturally and makes its passage easier. Best of all, unlike other laxatives, it does not have any side effect whatsoever associated with its use, and is actually healthy for the body too!
Using Coconut Oil for Constipation
While one of the best ways to use coconut oil for constipation is to consume it directly, preferably during the night before bedtime to help stimulate bowel movement once you get up the next day, but if you don't really like the idea of gulping down a couple of spoonfuls of oil, here's how you can get more of coconut oil in your body.
Instead of olive oil, drizzle coconut oil over your salads.

Swap your cooking oil with coconut oil for a few days.

Add it to your dough if you're baking bread or a cake.
You can also consume the flesh of the fruit for best results- just make sure it is fresh. Coconut milk is often used to prepare different delicacies, so go ahead and get started with those. Infact, drinking coconut water can also help relieve constipation by softening the stools thanks to its water content.  
Troubled by #constipation? Time to get your hands on #coconutoil the best #naturallaxative! via @BeautyJOnline
Click To Tweet
Other Benefits
Apart from loosening the bowels, coconut oil has several other benefits that you need to know about.
It works as an excellent natural hair growth tonic.

You can also use coconut oil to reduce the appearance of acne scars.

Need a natural face moisturizer? Coconut oil's got everything to do it right! Infact, it can also double up as a natural sunscreen.

Got a baby? Coconut oil can be your ultimate diaper rash cream that's totally healthy and natural for your baby.

The oil can also be an effective natural remedy for yeast infection.
Convinced you enough? Do let us know how you put this elixir to use! Don't forget to stock up on it as well!